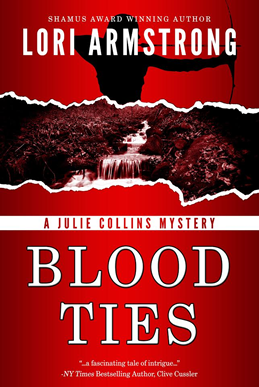 Given the trainwreck my life has become, I've earned my cynical attitude. I'm trapped in a dead-end job at the Bear Butte County Sheriff's Office—a position I took out of desperation after the brutal murder of my Lakota half-brother. Three years have passed, his case is cold, and my coping mechanisms—tequila, cigarettes and dubious men—no longer serve as excuses for my grief; they define who I am.
Welcome to my world—Julie Collins, harbinger of doom and a sucker for lost causes.
So when the body of a sixteen-year-old white girl surfaces and the death details are alarmingly  similar to my brother's murder, Kevin Wells—my best pal and local PI—admits he'd been hired to find the missing kid before she turned up dead.
I'm roped into helping Kevin tie up loose ends regarding the girl's disappearance…and that's when things begin to unravel. Lies are revealed. Bullets start flying. Yet nothing—not even death threats—will stop me from digging for the truth and finding the justice for this girl that my brother was denied.
But the killer is willing to kill again to make sure these secrets stay buried. And this time, I'm in the crosshairs.
Buy Now Digital
Buy Now Print
Reviews
"…a fascinating tale of intrigue that will sweep you into a world of horror and suspense."
NY Times Best Selling author, Clive Cussler
TOP PICK 4 1/2 stars! "This engrossing tale of murder and deceit- with its razor-sharp characterization and well-defined sense of place- delivers from beginning to end."
Romantic Times BOOKclub Magazine
"Tough, sensitive and smart, Julie Collins is a welcome addition to the private eye genre. In BLOOD TIES she breaks all the rules."
Stephanie Kane, mystery author and winner of the 2004 Colorado Book Award for Best Mystery, EXTREME INDIFFERENCE.
"I highly, highly recommend Ms. Armstrong's debut…she provides plenty of edge of your seat reading."
Kristi Ahlers, top reviewer, amazon.com and bn.com
"BLOOD TIES is a gripping debut mystery, vividly set in The Black Hills of South Dakota."
Kathleen Taylor, amazon.com top-seller, and author of THE HOTEL SOUTH DAKOTA in the Tory Bauer mystery series.
"BLOOD TIES is a roller coaster ride of danger and excitement that will have your heart pumping and your emotions twisting like a wet dish rag."
Rated 5 out of 5, Romance Junkies.
"…is a gritty, violent novel…will keep readers on the edge of their seats turning the pages. If you want to walk on the seamier side with a good murder mystery, you will enjoy BLOOD TIES."
Marilyn Heyman, Romance Reviews Today
"Lori Armstrong provides a fabulous mystery starring an intriguing protagonist with a climax that will stun the audience."
Harriet Klausner, #1 reviewer, bn.com, amazon.com
"BLOOD TIES by Lori Armstrong is a thrilling roller of a mystery that taunts you to try and solve the riddle. The suspense was superb, keeping you glued to the page. Your subconscious urging you to read just one more page, get one more piece of the puzzle."
In The Library Review